Pushed to the wall after 18 months of bargaining for a first contract, 1,100 faculty at the University of Illinois at Chicago went on strike Feb. 18 and 19. It was the first strike in recent memory at a research institution and, as such, generated a lot of media attention both in Chicago, a union town, and across the nation.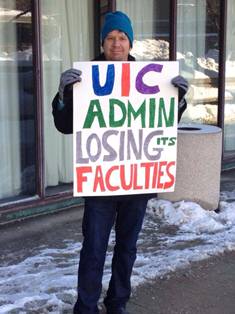 Faculty at UIC are represented by UIC United Faculty, a joint affiliate of the AFT, the Illinois Federation of Teachers and the American Association of University Professors. The union was first certified in 2011 as one unit of full-time tenure-track and nontenure-track faculty, but the university immediately appealed—the beginning of a relationship marked by stonewalling. In 2012, the Illinois Educational Labor Relations Board separated the faculty into two bargaining units—one unit of 725 tenure-track faculty and another of 425 nontenure-track faculty.
Despite the separation, the union bargains as one and—judging from the wildly successful strike—are stronger together. A key issue is wages, especially the wages of 70 nontenure-track faculty who make $30,000 a year. UICUF has proposed a minimum of $45,000 a year for those faculty. It is also seeking a minimum of $60,000 a year for tenure-track faculty, and merit raises of 4.5 percent this year and 3.25 percent in each of the following two years. The university is proposing 3.25 percent raises for this year, and nonspecific increases—or none—after that.
UICUF notes that the University of Illinois has accumulated more than $275 million in unrestricted profits annually for the last four years and is on track to do so again for the 2014 fiscal year.
"The heart of UIC is its faculty and its students, but the Illinois board of trustees shortchanges them both," UICUF President Joe Persky said. "They take more of our students' tuition money, and even with hundreds of millions in profits each year and more than a billion dollars in reserves, they refuse to pay professors what they're worth."
 
UICUF also is fighting to give nontenure-track faculty a greater voice. "We're looking to make them real active members of their departments, as opposed to being treated like academic gypsies," Persky told the Chicago Sun-Times.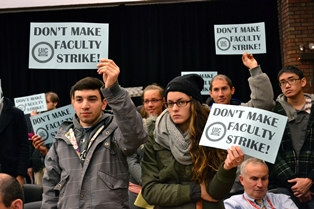 UIC's students supported the strike, which shut down classes for two days. They joined faculty on picket lines and at a December board of trustees meeting to show their alliance. As UICUF members Lennard Davis and Walter Benn Michaels explain in an article in Jacobin, UIC serves a different demographic from most large flagships; the majority of students "come from immigrant families, live at home, hold full- or part-time jobs, and even have children of their own," they write. They need extra academic attention at the outset to persist to degree:
"The UIC faculty and the UIC administration are completely united on the fact that we don't think that the way to solve these problems is by getting 'stronger' (which is to say, richer) students. In fact, when we put together a 'Strategic Thinking Report' back in 2005, we explicitly said we're not looking to recruit 'better' students; we want to do a better job of educating the students we have."
"What exactly does it mean to insist on the importance of the first-year experience," they ask, "and then pay the people most responsible for that experience a wage that virtually requires them to work a second job?"
Illinois Federation of Teachers President Dan Montgomery, who is an AFT vice president, calls it outrageous that the university has increased tuition and burdened students with debt, all while socking away almost a billion dollars of students' money. "Just as outrageous," he adds, "is that the administration has spent the students' tuition dollars on increasing the number of administrative positions and reducing the number of faculty."
The union returned to the bargaining table Feb. 21. "Despite the university's determined and divisive efforts," AFT President Randi Weingarten says, "the entire UIC community has come together to fight for high-quality higher education."
Meanwhile, faculty at the University of Illinois at Urbana-Champaign are also organizing under the IFT-AFT-AAUP auspices. Stay tuned.
[Barbara McKenna, AFT-IFT-AAUP press release/bottom photo by Dawn Tefft]