The final count came in the day before Thanksgiving, Nov. 25: Adjunct faculty at Temple University voted overwhelmingly to join the AFT.
That's a lot to be grateful for around the Thanksgiving table.
With 70 percent of eligible adjunct voters electing to join the union, all faculty at the university will now be represented by the Temple Association of University Professionals—about 1,400 adjuncts and 1,400 full-timers.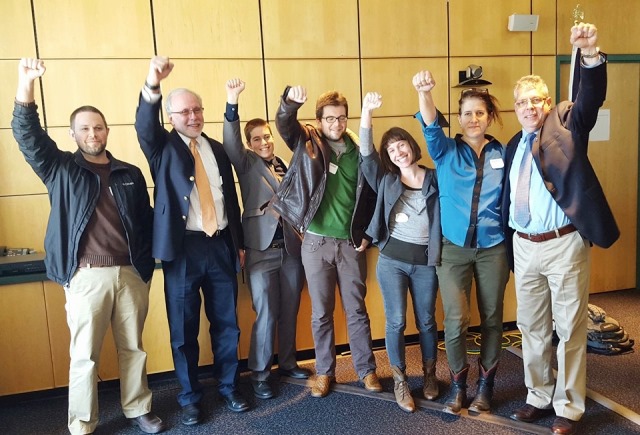 "This win at Temple University is a victory for teachers who value quality education and believe in fairness in the workplace," says Ryan Eckes, adjunct professor of English at Temple for the past 10 years and a member of United Academics of Philadelphia, AFT's Philadelphia adjunct union. "My colleagues and I are proud of this important step toward achieving job stability in higher education and restoring my alma mater toward its mission of delivering education for all in Philadelphia."
"We are proud that the adjunct faculty at Temple have voted to join the AFT—the largest union for adjunct faculty in the country," says AFT President Randi Weingarten. "The complaints from adjuncts at Temple—low pay, unpredictable workloads, terrible job conditions and no benefits—echo those we hear from adjuncts across the country. It's not right that higher education institutions rely more and more on adjuncts to teach the next generation, yet treat them terribly. Through the union, Temple's adjunct faculty will be able to negotiate together for better pay, benefits and working conditions as well as higher-quality education for their students. Organizing is the first step in putting an end to the exploitation of adjunct faculty."
Adjuncts make up half the faculty at Temple, a balance not uncommon at universities across the nation. They are "at-will" employees working semester-long appointments for $1,300 per credit ($3,900 per course)—much less than their full-time colleagues earn. Job security is capricious at best. Classes often are canceled with little or no notice, leaving adjuncts unsure of their employment status; many try to file for unemployment benefits, and others get multiple jobs to fill in the income gaps, leaving them little time outside of class to mentor their students or even provide letters of recommendation.
In other ways, adjunct faculty are nearly identical to full-timers. They often have similar credentials and dedication to the institution. The Temple administration contested that notion, however, formally objecting to the adjuncts' request to the Pennsylvania Labor Relations Board to join the union. The PLRB ruled in the adjuncts' favor, rejecting the administration's arguments and listing numerous reasons adjuncts share a "community of interest" with full-timers and should therefore belong to the same union. The groups have identical teaching responsibilities, for example; they work on the same campuses and in the same classrooms, teach the same courses, and have nearly the same educational requirements. Both groups are "typically expected to have a terminal degree in their field," they have offices in the same areas as full-time faculty members, and sometimes even share offices with them. "If that were not enough," wrote the PLRB, "adjunct faculty members interact with full-time faculty members on a regular basis."
Further, "Temple's argument that there is an alleged conflict of interest between the adjunct and full-time faculty, which destroys any community of interest, is untenable." That did not stop the administration from trying to pit tenured faculty against adjuncts, through captive audience meetings, email and posted letters to faculty suggesting they vote against the union.
The union fought hard for this victory, though, with demonstrations, protests and community-supported actions. It also posted countless photos, videos and letters from stakeholders, including Temple adjuncts themselves, full-time faculty supporting their colleagues, students supporting their professors, and members of supportive sister locals like United Academics of Philadelphia, Faculty and Staff Federation of Community College of Philadelphia, Rutgers AAUP-AFT and the Professional Staff Congress at City Colleges of New York.
[Virginia Myers, AFT press release]