The Michigan House of Representatives, ignoring fierce opposition from the Democratic minority, on May 5 passed a dead-of-night financial aid package for Detroit Public Schools that had been twisted into a partisan screed against Detroit teachers and school employees. The AFT and other groups are urging the governor to reject the House's scheme and move forward with Senate-passed legislation, which is much closer to what Detroit schools' stakeholders need to keep schools strong.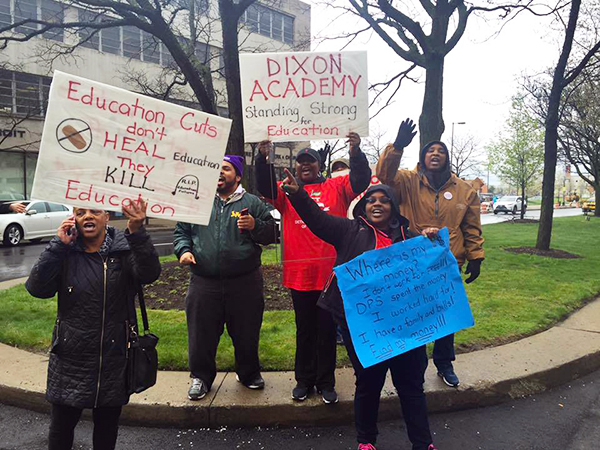 "The partisan bills forced through in the dead of night by Speaker Kevin Cotter are some of the most despicable anti-student, anti-public school, anti-teacher provisions we've seen in America," said Detroit Federation of Teachers Interim President Ivy Bailey, AFT Michigan President David Hecker and AFT President Randi Weingarten in a joint statement. "Make no mistake: These bills discriminate against Detroit's children—who are overwhelmingly economically disadvantaged children and children of color—and are designed explicitly to punish teachers who speak up on behalf of their students and themselves. Many of the so-called teacher-related provisions have failed and been rejected when used in other jurisdictions."
The Michigan House also used the financial package as an opportunity to lash out at Detroit educators and staff after a two-day job action earlier in the week. All but three of Detroit's 97 schools were closed May 2-3 in what amounted to a lock-out, after the chief schools administrator warned that he could not guarantee paychecks for teachers and staff beyond June 30. Roughly two-thirds of Detroit Public Schools employees defer a portion of their income to cover their summer expenses, and many would have lost wages for up to 37 working days had the system followed through with the threat. Teachers and staff returned to work after policymakers promised to make good on their earned wages, but the House majority used its legislation as an opportunity for payback: Under the House bills, teachers would be fined one day's pay for every day they are found to have engaged in "a strike."
The House package also provides aid in both the short and long term ($72 million per year to the district, capped at $500 million, along with a $33 million emergency loan) that is inadequate for the school system to pay down its debt and continue to operate. And it does not recognize any existing bargaining units; staff would be stripped of the protections and benefits of their contracts. In contrast, the Senate bills would maintain worker contracts.
Moreover, the House does not immediately return local control to the district, something that Detroit stakeholders have called essential to long-term success. Instead, the House bills would delay the process by establishing an appointed school board and empowering the Detroit Financial Review Commission to select the superintendent. And these bills include overly prescriptive language, paving the way for the hiring of noncertified teachers and establishing a merit pay system that ties pay to student standardized test scores for all new hires. All of these accountability measures would only affect Detroit.
"Under state-controlled emergency management, indifferent politicians abandoned Detroit's students to learn in under-resourced schools with deplorable conditions. Through it all, our teachers and school employees have been the glue that has held the schools together," the AFT leaders said. "By eliminating teacher voice, House Republicans strip away our ability to advocate for children, who have been failed by our leaders in Lansing.
"It's past time for the House to get serious and stop the political games. We urge Gov. Snyder to veto this bill, and ask the House to take up the bipartisan Senate bill that, while not perfect, gives Detroit's schools a fair chance and offers hope to our students, families, educators and staff."
Joint AFT-AFT Michigan-Detroit Federation of Teachers press release.
Fact sheet on the proposed legislation.
Message from the DFT leadership to members.
[AFT staff reports]