Public acclaim comes rarely for school support personnel, but back-to-school season last fall provided a windfall of publicity for school bus drivers, bus attendants, cafeteria workers, custodians and paraprofessionals in southwest Florida.
A splashy front-page spread in the Charlotte Sun featured a back-to-school campaign initiated by the Charlotte County Support Personnel Association, which let the newspaper's staff writers and editors, along with other members of the community, try to perform the jobs of school employees for a day. The campaign, "I've Been Back to School," is in its second year as a joint effort with the Charlotte Florida Education Association and the Charlotte County schools.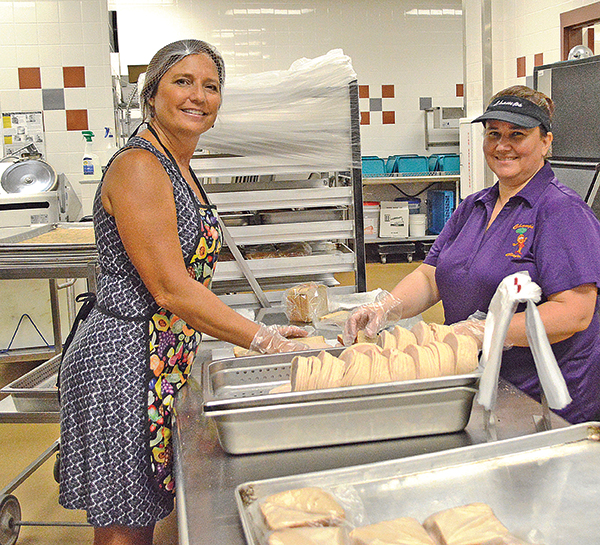 "Little did I know what a huge responsibility [it] would be" to work in the school cafeteria, wrote Sun correspondent Debbie Flessner (pictured at left) with AFT member Kat Mims in the kitchen at Peace River Elementary School in Port Charlotte.
These hands-on experiences proved that today's healthy, varied offerings are much better than the school lunches Flessner remembered, and that feeding 700 kids at school is far more taxing than taking care of her own three kids at home.
Most impressive about food service workers, Flessner wrote: "Each and every one of them was kind to the students and to one another, and extremely hardworking."
School bus drivers and attendants also were recognized as "a small army of quick-witted, team-minded, safety-conscious professionals who have a great responsibility twice a day: safely driving students to and from school."
Driver Roger McKeon and bus attendant Ethel Rice were two of the PSRPs that senior writer Christy Feinberg spent the day with. These workers arrive every day at the Punta Gorda transportation building by 5:30 a.m., working a morning shift and returning for a late afternoon shift that often ends after 5:30 p.m. Drivers and attendants, Feinberg noted, are the first staff to notice if kids are sick or upset, and the last ones to see them at the end of the day.
Sun reporters and other community members spent the day actually doing the work of PSRPs—including custodians and paraprofessionals—as well as teachers. They experienced the many changing demands on employees, the financial and physical constraints of school buildings, and the satisfaction of helping students achieve. One community member admitted she'd "never had a job that I couldn't go to the bathroom when I wanted to!"
The project is primarily designed to have members of the community experience firsthand the work of professionals in today's schools. To date, more than 50 community members have participated in the event.
[Bonnie Bistarkey, Annette Licitra/Charlotte Sun photo]